Newcomers and old acquaintances – something fresh for the warm season!
When it's summery you will not always eat a hot meal. pizza or something. Or burgers. Or curry. Sometimes a salad will do as well. And that can be the main course. You're welcome:
Bacon Jalapeno corn salad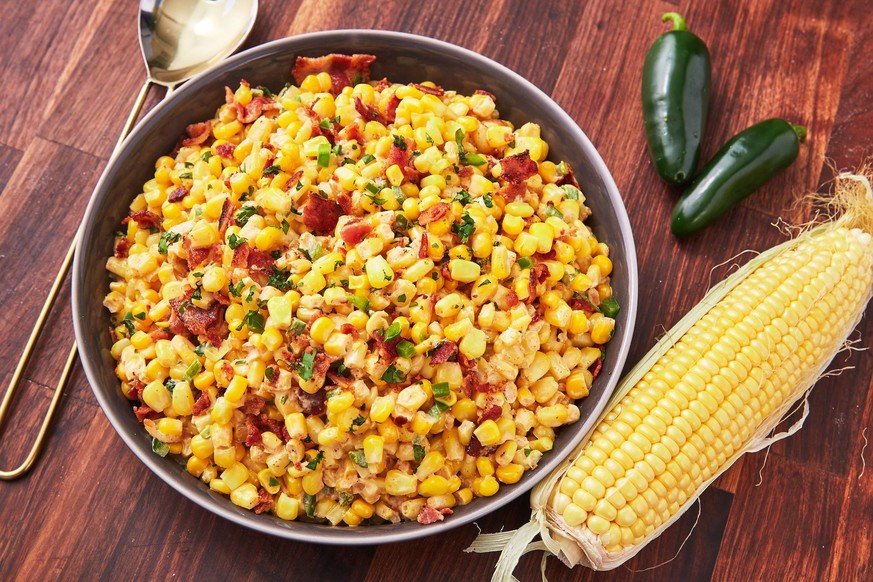 If not further specified: Quantities to your own taste and common sense. (However, some recipes still have certain amounts.)
For this you need:
Greek chickpea tuna salad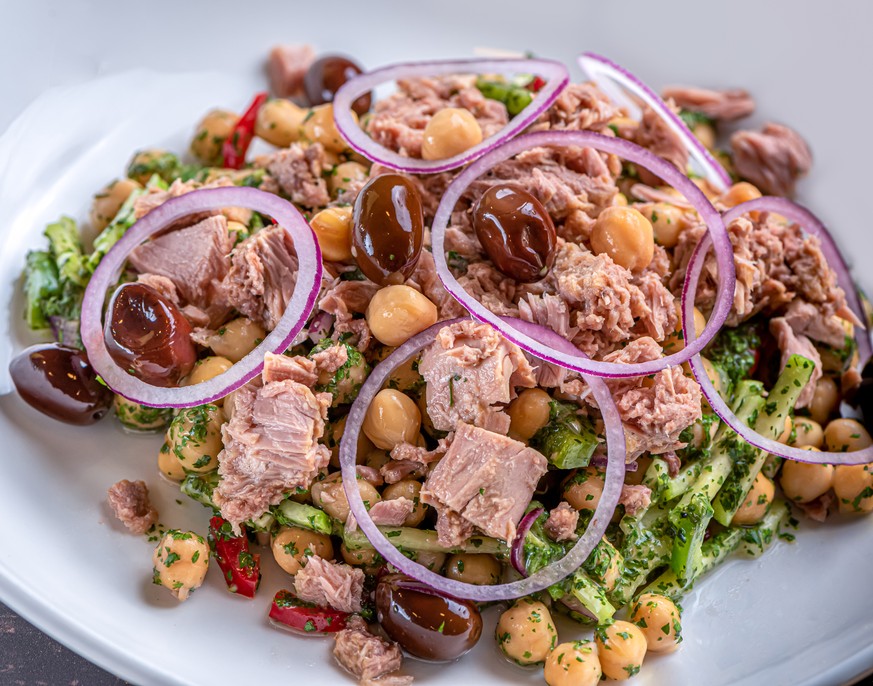 Image: shutterstock
Canned chickpeas, drained
good canned tuna, drained
Pomodori Secchi, drained and coarsely chopped
black olives
some red onion, finely chopped
Prezzemolo (flat-leaved Italian parsley), finely chopped
possibly a little red chili, seeded and finely chopped
1 small clove of garlic, pressed
olive oil
white wine vinegar
salt and black pepper

Mix garlic, olive oil, vinegar, salt and pepper for a dressing.
Peach Burrata summer salad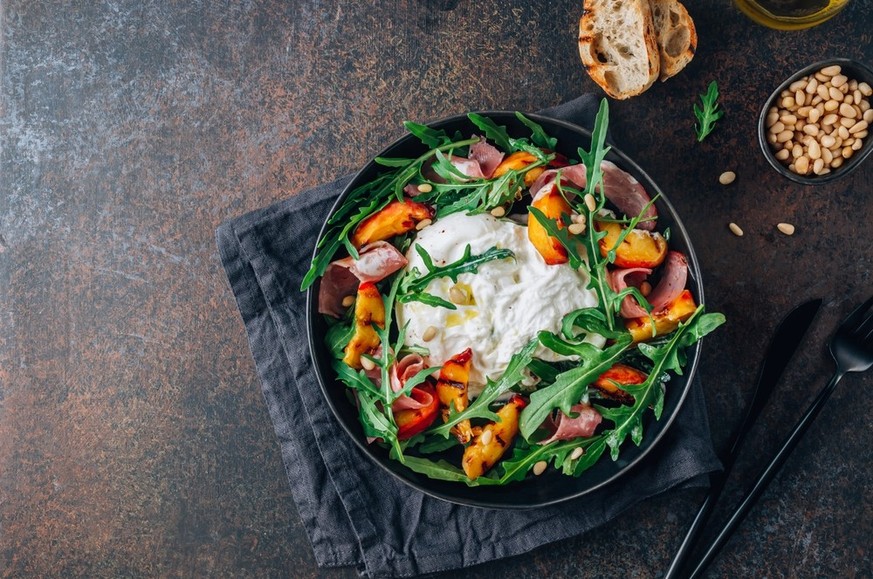 Image: shutterstock
Peach, divided into quarters and briefly grilled
ruccola
fresh burrata
Pine kernels, briefly fried in a coated pan beforehand
Prosciutto Crudo
a little runny honey
white wine vinegar
olive oil
Salt and freshly ground black pepper
Possibly some mint leaves, roughly grated
Som tum mamuang – green mango salad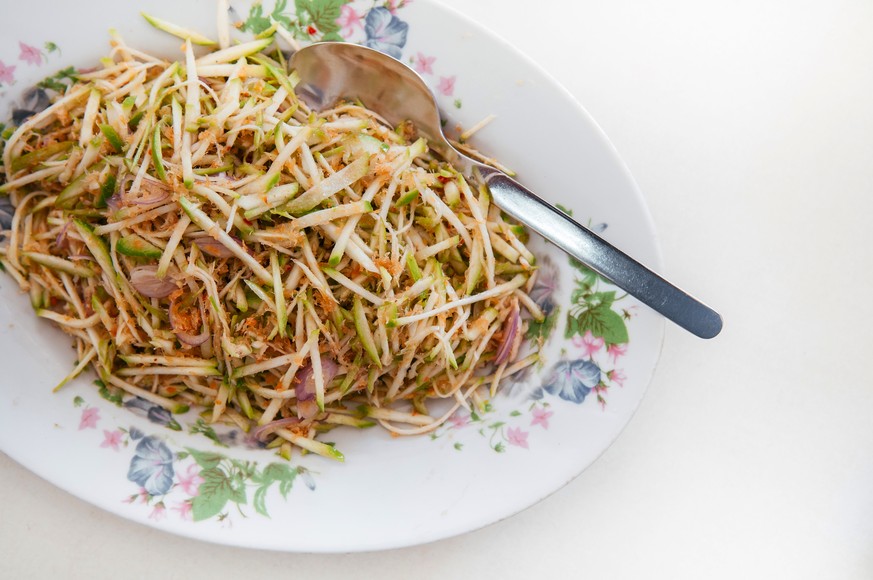 Image: shutterstock
2 tablespoons water
2 tablespoons palm sugar
2 tablespoons fish sauce

Mix water, sugar and fish sauce in a small pan and cook for 3 minutes.

2 green mangoes, grated (or in thin slices)
1 small red onion, diced
2 tablespoons peanuts
1 tablespoon dried shrimp
Chili powder, to taste

Mix all the ingredients in a bowl.?
Zucchini salad with mint and arugula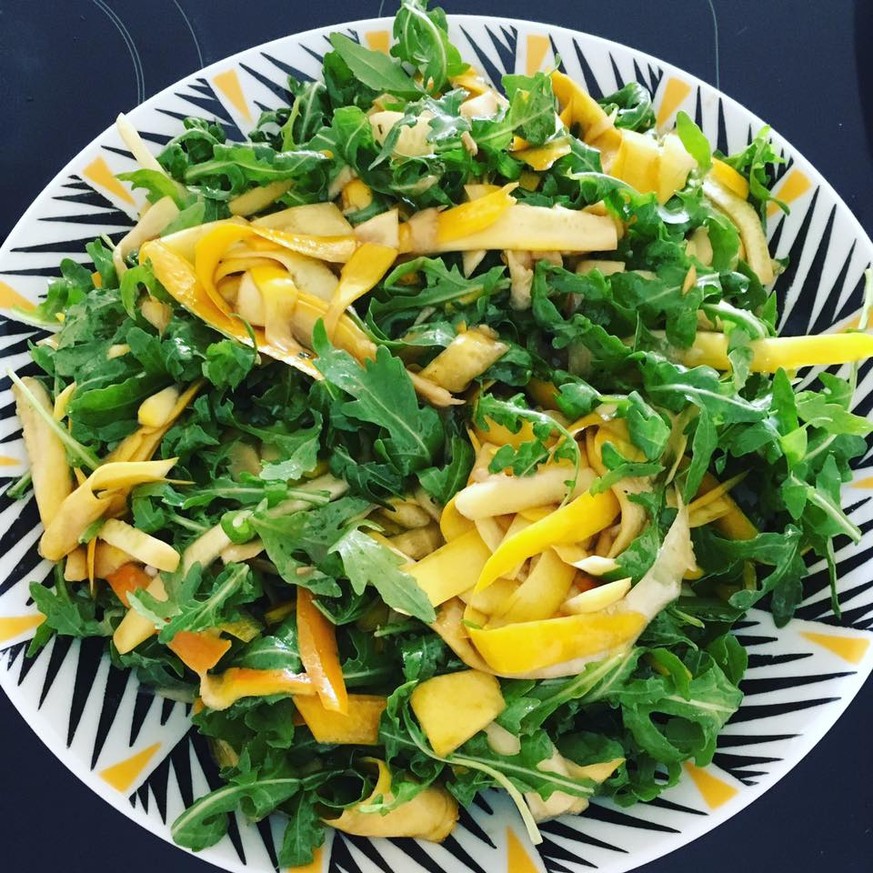 Image: obi / watson
yellow (or green) squash (about a medium-sized one for 2 people)

Use an asparagus peeler and cut the unpeeled squash into strips (without seeds). Salt and let it drain in a bowl for a while.

lemon juice
olive oil
garlic
honey

Mix olive oil, lemon juice and garlic to taste, marinate the drained squashes in it.

ruccola
Pine nuts, toasted
fresh Mint
Salt and freshly ground black pepper

Serve as a salad with arugula, pine nuts, chopped fresh mint and the marinade spiced with honey.
Watermelon, feta and mint salad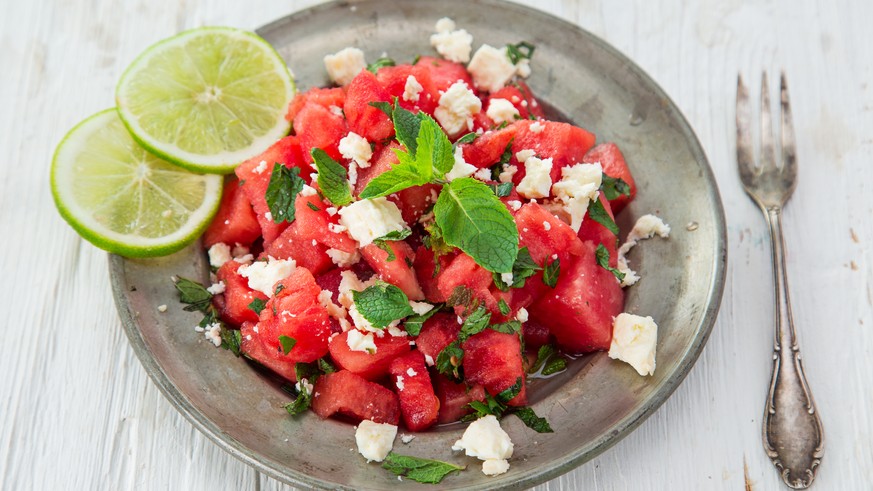 Image: shutterstock
Watermelon, cut into large pieces
1 small red onion, in thin slices
feta
fresh Mint
a little freshly ground black pepper
Drizzle a little white wine vinegar over
a little olive oil too
Young spinach with parmesan and croutons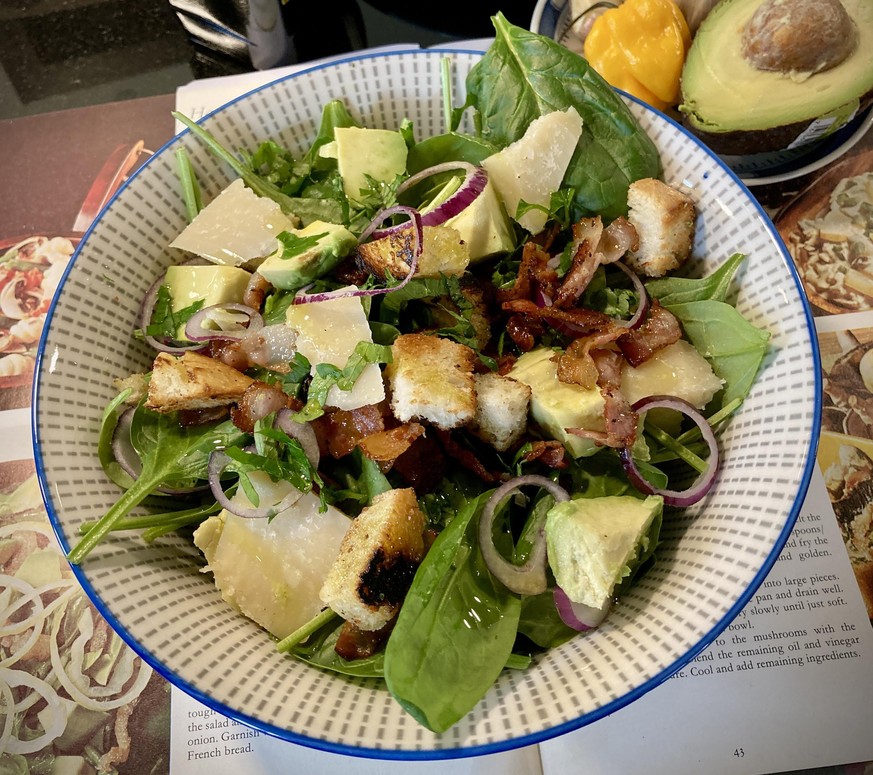 Image: obi / watson
Baby spinach, washed
Avocado, peeled, pickled and cut into pieces
a little red onion, cut into thin rings
Fried bacon, cut into strips, or bacon into cubes, fried until crispy
White bread from the day before, cut into cubes or coarsely grated, fried in the fat left over from the bacon roast until crispy
good parmesan, chopped / crushed into pieces
olive oil
freshly squeezed lemon juice
Salt and freshly ground black pepper
Nice Rice Noodle Doodle Salad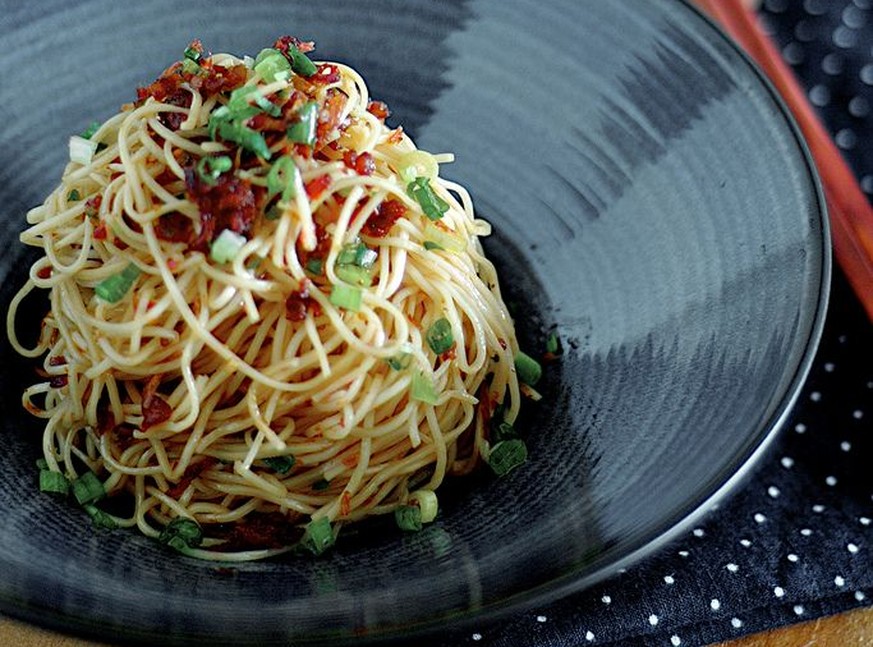 Image: pinterest
175 g rice noodles, cooked according to the instructions on the package, bottled and mixed with 1 tablespoon sunflower oil and cooled
2 lime
2 small garlic cloves, very finely chopped
Spring onions, in thin slices
2 red chilies, without seeds and very finely chopped
Juice of 2 limes plus grated peel of one
4 teaspoons sesame oil
3 tablespoons Thai fish sauce
3 tablespoons fresh coriander, chopped
Shrimp mango salad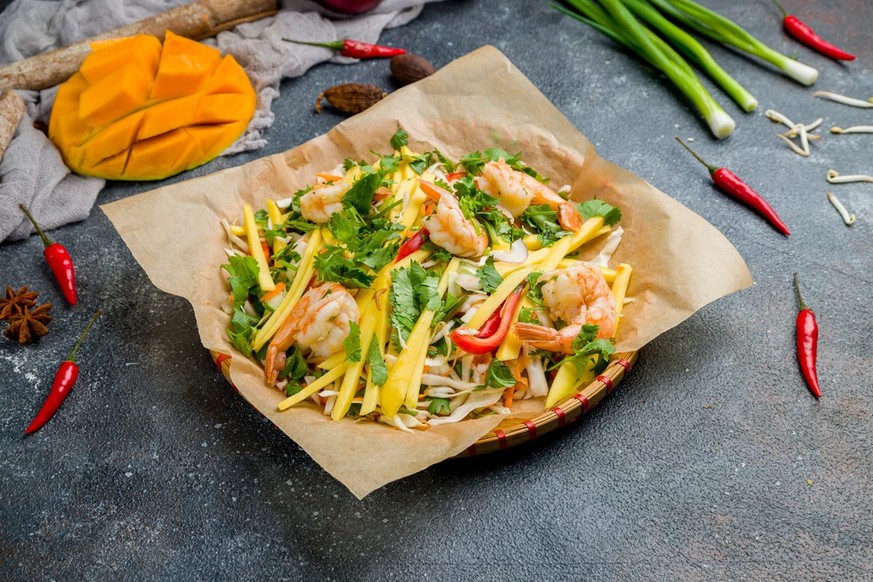 Image: shutterstock
2 ss miso
1 tablespoon ginger, grated
2 tablespoons honey
2 tablespoons freshly squeezed lime juice
1 tbsp olive oil
1 teaspoon sesame oil

Whisk together all the ingredients for the dressing in a small bowl.


400 g fresh shrimp, peeled
1 tbsp olive oil
Salt and freshly ground black pepper

Brown the prawns in olive oil in a coated pan and season with salt and pepper; put aside.


1/2 Chinese cabbage, in thin slices
1 large or 2 small mangoes, chopped
1 cucumber, chopped
1 avocado, peeled, hollowed out and cut into pieces

Mix gently in a salad bowl.

Peanuts, coarsely chopped and briefly fried in a pan.
Thai basil and fresh coriander to taste

Garnish the salad with shrimp, peanuts, basil and coriander and drizzle over the dressing.
Panzanella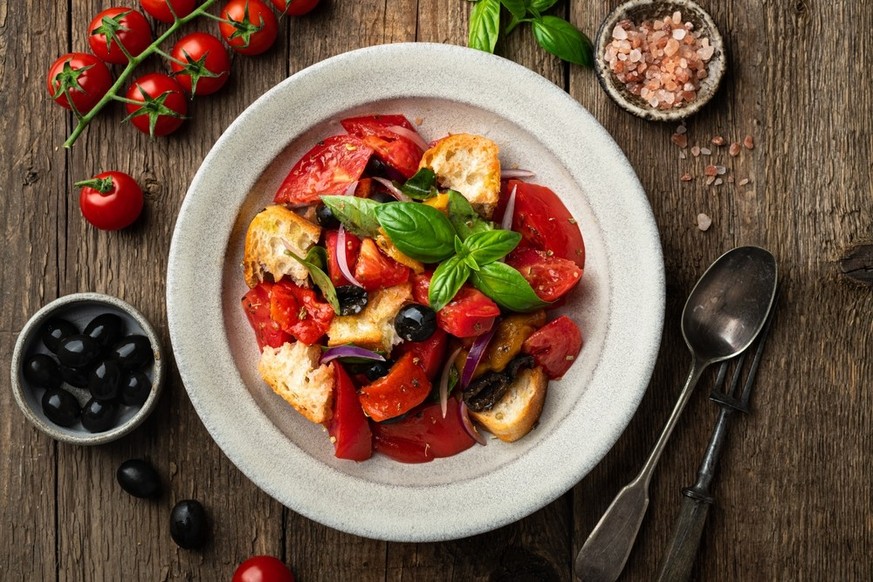 Image: shutterstock
hard bread from the day before – ciabatta or similar
Tomatoes, coarsely chopped
1 small handful of capers
1 red onion, very thin slices
red, hot peppers (if necessary), sliced ​​to taste
Anchovy fillets (optional), drained
1 handful of fresh basil, coarsely grated
olive oil
red wine vinegar
Freshly ground salt and black pepper

Roughly grate the bread, drizzle over a little oil. If necessary, sauté briefly in a dry non-stick pan over high heat until a crust appears in spots; then set to cool. Combine all the ingredients and mix in (we recommend a ratio of about 3-2 for oil and vinegar).

Jaipur Slaw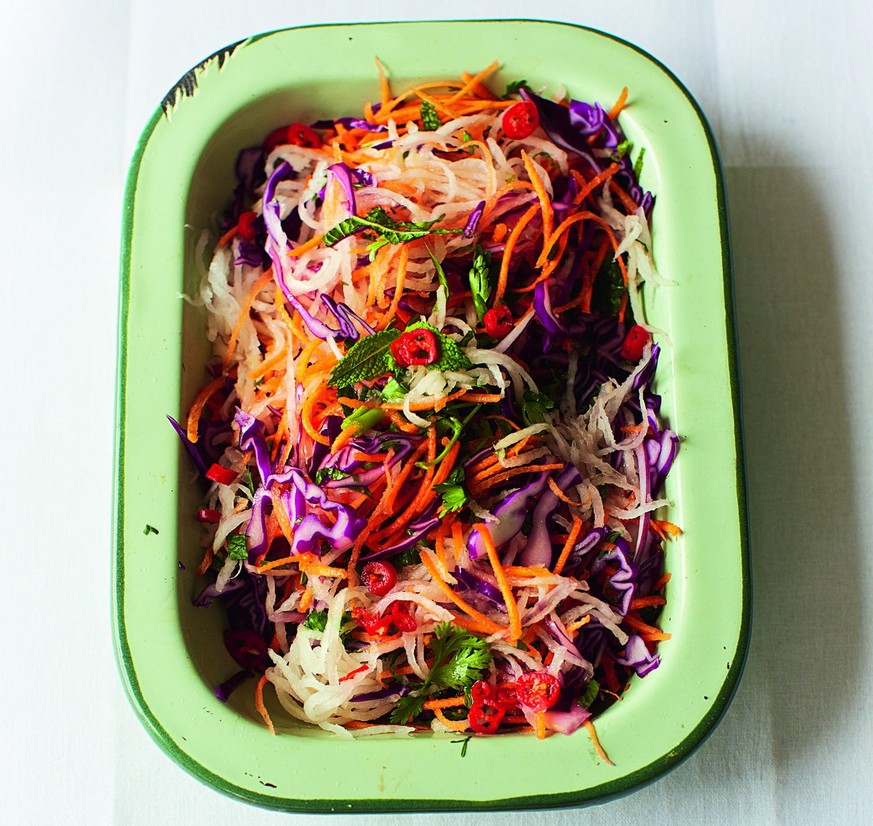 Image: meerasodha.co
I'm eating this salad … not either:
This may also interest you: