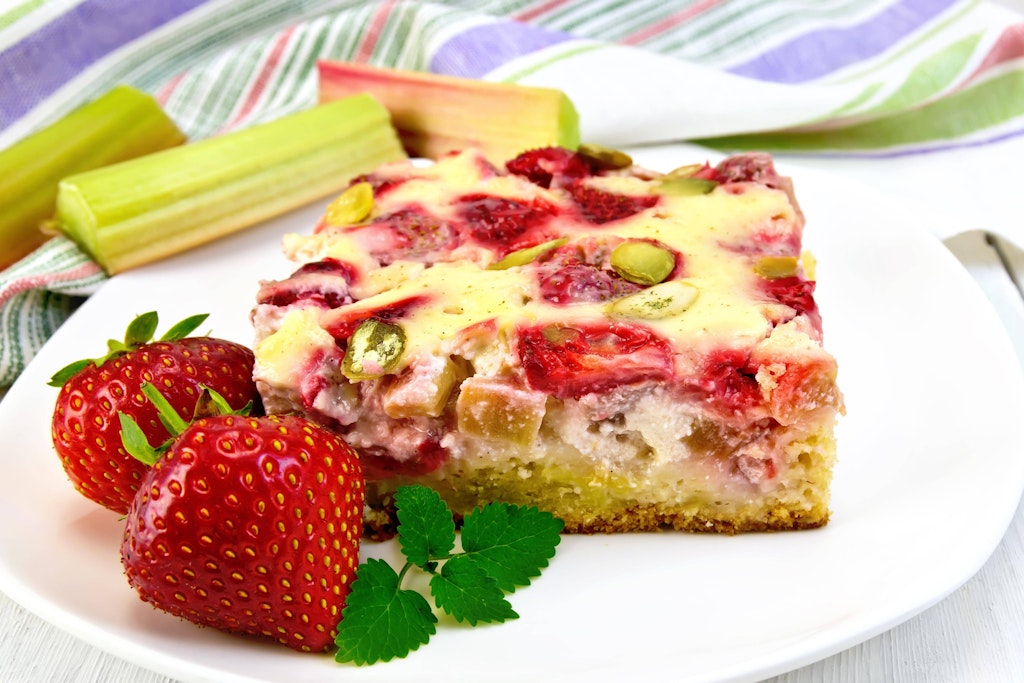 It's strawberry time! And it's rhubarb time! Both fruits are perfect for delicious cakes. Strawberries and rhubarb also harmonize very well with each other, the sweetness of the strawberries matches well with the acidity of the rhubarb. So: why not bake a combined strawberry and rhubarb cake!
Also try: Fruity, creamy and so delicious: Great recipe for delicious apricot cake with cream icing >>
We have here for you a great and simple recipe for a rhubarb and strawberry cake from the mold with a simple dough. Vanilla pudding also makes this sheet cake nice and creamy. And roasted almonds round off the good taste of the juicy cake. Try it, you will love this strawberry cake and the rhubarb cake in one!
Also try: Fresh, fruity and so delicious! Great recipe for cheesecake with strawberries – strawberry cake with a difference >>
recipe for Plate rhubarb and strawberry cake
You need the rhubarb strawberry cake: For the dough: 200 grams of flour, 2 even teaspoons of baking powder, 200 grams of butter (margarine also works), 180 grams of sugar, 1 packet of vanilla sugar, 1 pinch of salt, 4 eggs. For the topping: 500 grams of rhubarb, 600 grams of strawberries, 30 grams of almonds (flaked or sliced). For the cream filling: 1 packet vanilla pudding powder, 100 grams sugar, 350 milliliters milk, 150 grams yogurt
Here's how it works: Wash and trim the strawberries and divide them into two or four, depending on the size of the fruit. Wash and trim the rhubarb and cut into pieces of approx. 2 centimeters. Lightly shake the almonds in a pan without fat. Preheat the oven to 180 degrees. Grease baking paper.
For the dough, put flour and baking powder in a bowl and mix. Add the remaining ingredients and mix with the mixer first slowly and then at the highest level to form a smooth dough. Pour the batter into the baking paper and distribute evenly.
Then prepare the pudding. Mix the pudding powder with the sugar. Stir in a good splash of milk until smooth. Bring the remaining milk to a boil, remove from the heat and stir in the mixed pudding powder. Bring to the boil again, about a minute, and remove from the heat.
Stir the yoghurt into the hot pudding and carefully spread the pudding mixture over the dough in the baking tray. Then spread strawberries and rhubarb on top. Finally, sprinkle the almonds on top and put them in the oven. After about 40 minutes, the rhubarb and strawberry cake is ready.
Tips: The rhubarb and strawberry cake also tastes very good when it is still a little warm. And for a dab of whipped cream on top, food lovers will not say no …