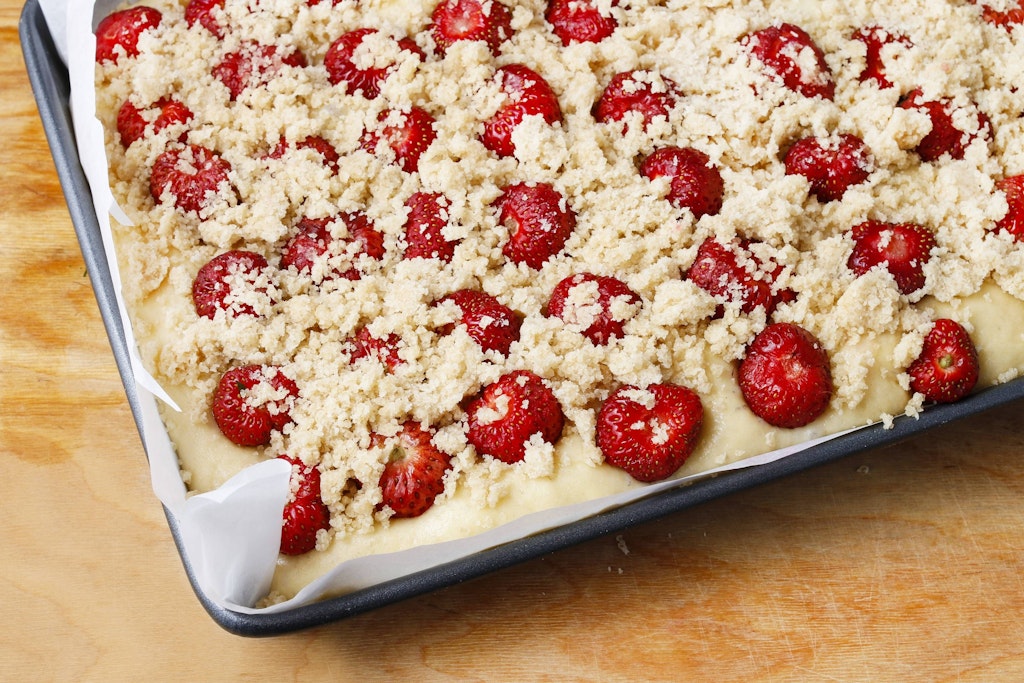 How do you make a strawberry shortcake? Most people will now say: Buy ready-made cake base, vanilla pudding on top, strawberries on top, cake icing on top, ready-made. That's right- this is how many sweet teeth prepare their strawberry shortcake. But: There are other varieties that are at least as delicious. For example, have you ever baked a strawberry shortcake with custard and crunchy crumble? Here is the sensational recipe.
You can also read about this now: Brilliant quick recipe for barbecue evening: This last-minute pasta salad is a must try! With meat sausage and cheese, it's just delicious >>
And the best part about it: You should remember the recipe, because it does not only suit the strawberry season. The strawberries can be replaced with any other fruit. Try it with other berries, cherries, apples or even peaches – if you master this recipe, you have the world's most variable and simplest fruit crumbs in your repertoire. Here is the good recipe.
Also read: Grandma's best apple pie: There is a lot of tradition and love in this recipe! >>
Ingredients for strawberry cake with custard and sprinkles
You will need: You will need 500 grams of strawberries, 300 grams of flour, 245 grams of sugar, 1 bag of baking powder, 1 pinch of salt, 125 grams of butter, 1 egg, 500 milliliters of milk, 1 cup of crème fraîche and 1 bag of custard.
Also try: Fruity, creamy and so delicious: Great recipe for delicious apricot cake with cream icing >>
Here's how it works: Put the flour in a bowl and mix with baking powder and salt. Then add the cold butter and 125 grams of sugar. Add the egg.
Also read: Pink, yellow, green: What the color of the doctor's prescription says >>
Recipe for strawberry cake with pudding and crumbs: Here's how to do it
Use your hands to work everything together quickly into an airy crumbly dough – this should not take too long so that the butter does not melt due to the heat from the hands. Line a springform pan with parchment paper and press two-thirds of the dough into the pan. Prick several times with a fork and pull up an edge on the sides.
Also read: The perfect recipe for the weekend: Turboark cake with fresh strawberries! This juicy strawberry cake is simply amazing >>
Heat the milk in a saucepan. In a cup, mix the custard powder with a few tablespoons of milk until smooth. Pour this mixture into the milk when it bubbles. Stir quickly and bring to the boil again until the pudding is ready. Allow to cool completely. Tip: If you put some food film directly on the surface of the pudding, no skin will form. When the pudding is cold, stir in the crème fraîche.
Also try: Super juicy, super delicious: Simple recipe for apricot cake from a box – the perfect fruit cake for the coffee round in the summer >>
Put the vanilla cream on the prepared dough. Preheat the top to 200 degrees circulating air. Wash and trim strawberries (read here how to wash and trim strawberries correctly) and spread on the pudding. Finally, crumble the dough over the strawberries. Bake the cake in the oven for about 50 minutes until the crumbs are crispy brown. Enjoy the meal!
Read now also: Brilliant dessert: recipe for tiramisu with fresh strawberries! This is how the Italian classic becomes a dessert for the strawberry season >>