Street food has been a major theme in Berlin for years. Small pieces from the food truck or snack car, eaten on public roads – what was declared a hip trend here at that time is part of everyday life in other regions of the world. According to the Food and Agriculture Organization, 2.5 billion people eat street food every day. In South American cities, this accounts for up to 30 percent of household expenditure. In Bangkok, 20,000 street food vendors supply the city's residents with an estimated 40 percent of their daily food needs.
In New York, even this year's seller is chosen at an annual street food competition. We have not come that far in Berlin yet, but even here the small portion by hand has long been part of the weekly snack folklore. Well-known recurring markets include "Street Food Thursday" in Kreuzberg Markthalle Neun or "Street Food on the move" in Kulturbrauerei in Prenzlauer Berg.
Thousands of visitors: Germany's largest Italian street food festival
But the finger food frenzy has long gone beyond stationary permanent facilities like this, and entire festivals have now been dedicated to street food. This also applies to the "Italian Street Food Festival", which is dedicated exclusively to Italian cuisine.
It will take place for the fourth time in 2022, last year there were over 5000 visitors and made the event the largest Italian street food festival in Germany. Which is not surprising, since there is at least one restaurant or pizzeria in virtually every Berlin neighborhood, and Italian food is still one of the most popular in the world.
On the weekend of 18 and 19 June, however, the offer goes far beyond the well-known Italo classics. Around 20 stands on the festival site at Osthafen offer caponata, squid burgers, Venetian tramezzini, panzerotti (stuffed pastries from Apulia and Campania), Neapolitan pizza, focaccia and Sicilian cannoli with sweet cream filling.
Handmade ice cream and Aperol Spritz for four euros are also part of the program, as are art and music. The DJ collective Borghetta Stile travels all the way from Rome, the Berlin-based Sardinian artist Lorenzo Deidda presents his works and organizes a live painting performance.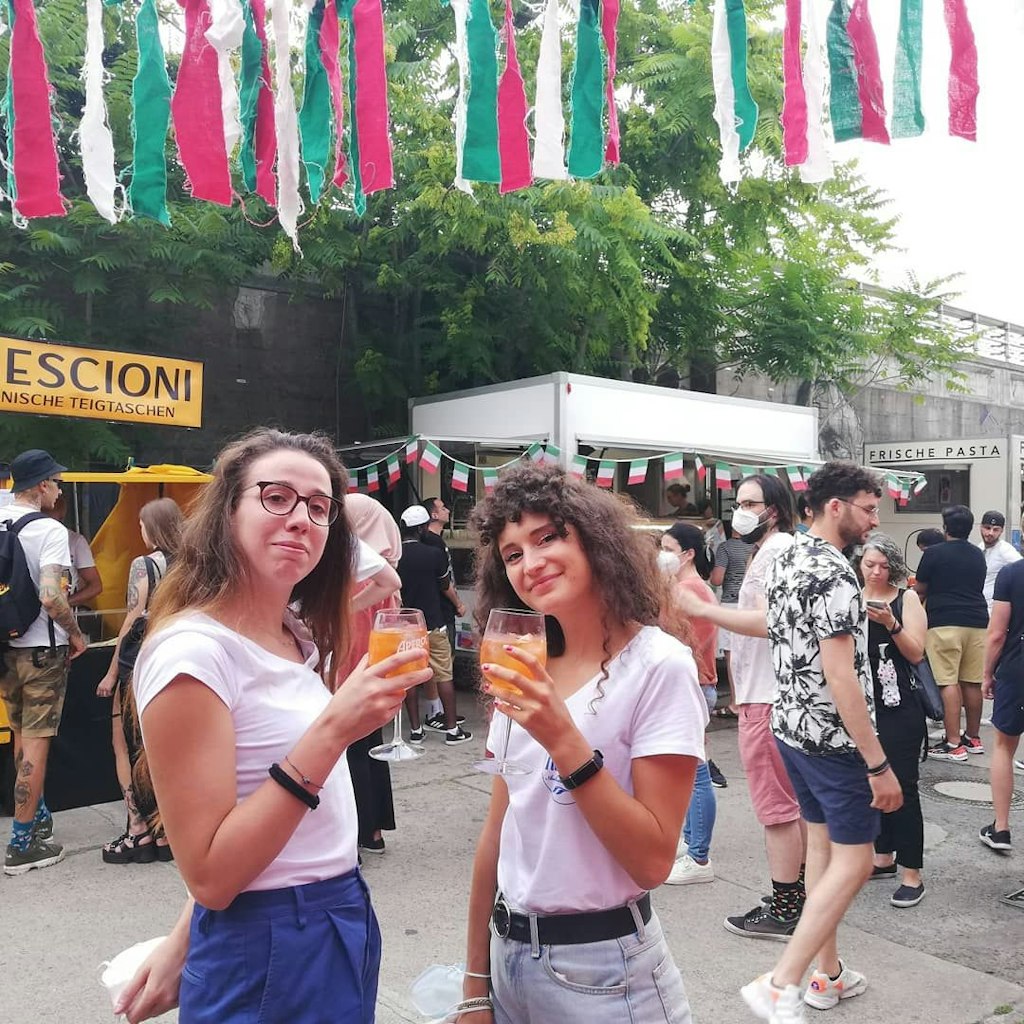 At the stands and food trucks you will meet some of the most famous Italian restaurateurs in Berlin, such as Vino e Basilico, Duo Sicilian Ice Cream, Zum Heiligen Teufel or the cake bakery from Gaia from Markthalle Neun. A stand even comes from Frankfurt: At La Frisa Fra you can try Apulian specialties. New this year are the Venetian tramezzinis from Tramesin (a pop-up shop in Arminiusmarkthalle in Moabit), Roman focaccia filled with meatballs from Noon Cucina Romana or the fresh ravioli in butter and sage sauce from Apemangia.
From market to market: street food was the rescue during the pandemic
An old festival rabbit is Focacceria San Francesco and owner Daniela. Together with her husband Alessandro, she specializes in Sicilian street food, which is no coincidence, the two are after all from Palermo. Alessandro's family already ran a focacceria there.
Here in Berlin, Corona put a stop to his shop on Kastanienallee: the restaurant could not survive without the hordes of tourists in Prenzlauer Berg. What was left was a snack hanger – and the hope of street food. Now the two Italians tour from event to event and from weekly market to weekly market: on Tuesdays they are at Leopoldplatz in Wedding, on Wednesdays in Schöneberg, and then on Saturdays in Zehlendorf.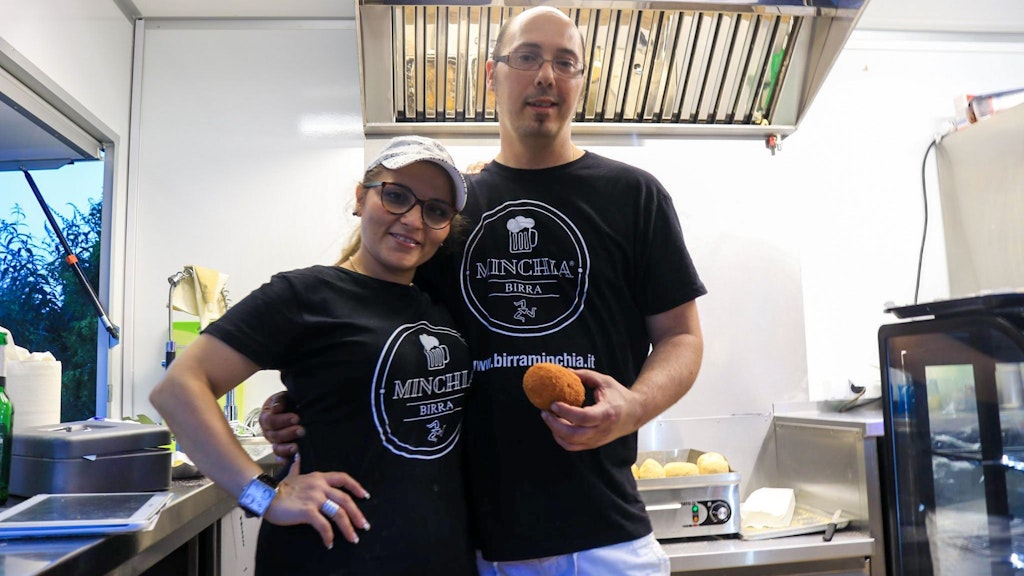 For the festival, Daniela and Alessandro prepare arancini with different fillings. "These fried and stuffed rice bowls are part of the traditional Sicilian cuisine, in our home country you can get them for breakfast in the bakeries and also for lunch in the bars. You can actually eat them all day, says Daniela enthusiastically. She and her husband will also bake the Sicilian pizza sphinx and of course focaccia on their stand, as the dough must be particularly crispy and fluffy, as Daniela emphasizes. The pasta specialties are topped with onions, anchovies, fresh tomatoes, hard cheese and ricotta from Palermo.
The specialties that Isola Italia brings to the festival come from a completely different corner of the boot. Owner Andrea Favullo offers arrosticini, grilled lamb skewers from Abruzzo.
"I'm from Puglia, but I've always been to Abruzzo on holiday with my family. That's how I got to know and love the skewers, which are often put on the charcoal grill in huge quantities ", says Favullo, who has been in Berlin for eight years and goes from weekly market to weekly market with his juicy marinated pieces of meat. : Maybachufer, Arkonaplatz, south star.
Favullo's crispy skewers are a real Berlin specialty. "I'm the only one in town where you can buy arrosticini like this," says the Italian with certainty.